ESCAPE ROOM 3: úniková hra - 4 scénáře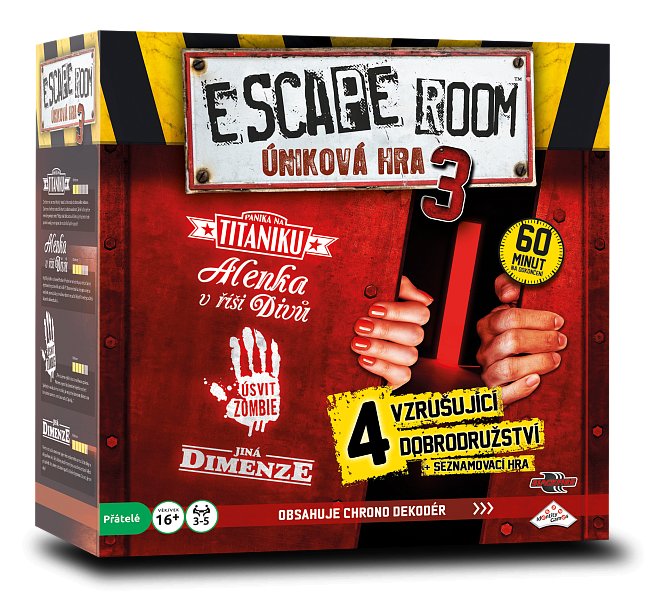 Již jste se seznámili s únikovou hrou Escape Room? Zažijte znovu napětí únikových místností ve svém vlastním obýváku ve čtyřech zbrusu nových dobrodružstvích únikové hry Escape Room 3.
Zachvátí vás Panika na Titaniku, stane se z vás Alenka v říši divů, možná přežijete Úsvit zombie a přivítá vás Jiná dimenze.

Nebo jste naopak o únikové hře Escape Room ještě neslyšeli? Pak se připravte na napínavou a nepředvídatelnou hru! V únikové hře Escape Room bude potřeba spolupracovat, řešit rébusy a hledat skryté stopy. Je to neustálý závod s časem, ve kterém máte 60 minut na dokončení. Chrono dekodér měří čas, vytváří tu správnou atmosféru a říká vám, kdy si můžete nechat napovědět. V této hře vyhráváte nebo prohráváte společně. Všichni ze sebe musí dostat to nejlepší. Pro včasné rozluštění hádanek a rébusů je spolupráce jediný způsob, jak uspět. Neuvěříte, jak rychle uteče 60 minut, když se dobře bavíte...

Jste připraveni na svoji největší výzvu?

Oficiální web hry: https://escaperoomthegame.com/cs-cz/

OBSAH BALENÍ:
Úvodní obálka
Dekodér nápovědy
16 klíčů
5 scénářů: Sklepení (seznamovací), 1. Panika na Titaniku, 2. Alenka v říši divů, 3. Úsvit zombie, 4. Jiná dimenze

UPOZORNĚNÍ: Pro spuštění chrono dekodéru jsou potřeba 3x AA baterie, které nejsou součástí balení.

Parametry
Dodavatel

Druh

Licence

Výrobce

Produktová řada

Balení

0

Jazykové mutace

CS

Baterie ANO/NE

A

Baterie

AA

Baterie součástí balení ANO/NE

N

Věk od

16 let

Doba hraní

60 minut

Počet hráčů

3-5

Kus hmotnost v kg

0,93 kg

Kus šířka v cm

26,5 cm

Kus výška v cm

26,5 cm

Kus hloubka v cm

11,5 cm

Počet ks v balení

0 ks

Balení šířka v cm

54,3 cm

Balení výška v cm

29 cm

Balení hloubka v cm

36 cm

Počet ks v kartonu

6 ks

Karton hmotnost v kg

5,58 kg